Every real estate agent wishes they had a crystal ball that would predict property trends. I have been selling real estate in Squamish since 1988 and never fail to be surprised with our local Squamish market. Since a crystal ball isn't possible the next best method of determining the likely direction of the market is looking into the past. Analysing real estate trends and data give us some of the picture, and understanding the economic, political and regulatory landscape surrounding the market can help decipher some of the rest.
There will always be a piece of the real estate predication puzzle that can never be solved. Many would have never predicted the global financial crisis a few years before it happened, especially not its impact on property markets all around the world. Macro factors such as interest rates, industry changes, economic conditions, consumer confidence, global issues etc. all effect the real estate industry.
Based on data and by examining three important metrics, we look at Squamish's real estate past to predict the future of the local housing market.
Sales Price
Sales prices have been trending upwards since 2005 with a slight dip between 2010 and 2013 due to the GFC, and a strong recovery starting in 2015. Between 2015 and 2016 sales price for detached homes increased 31 percent, townhomes 24 percent and condos 39 percent.
Price increases, although still impressive, are now beginning to ease. Between 2016 and 2017 sales prices went up 20 percent for detached homes, 12 percent for townhomes and 14 percent for condos. This is showing a stabilization which will likely continue for the next few years. With new construction being built, lack of affordable housing and possible interest rate rises, there is a good chance sales prices will steady for the short-medium term.

Days on Market
Days on the market signifies the demand for property at a particular period of time. Looking back 12 years ago, days on market were as low as they are now. Around 2008 homes began to sit on the market for longer, peaking in 2012 before the market made a strong recovery in 2015 and homes began selling quickly once again.
We are now seeing detached homes stay on the market for longer due to their higher price point, while condos are not staying for sale long (this is a reverse of 2015). This trend is expected to continue while prices remain high, and as the market begins to steady days on the market will increase for all housing categories.
Total Inventory
While days on the market tells a story about demand, total inventory tells the story of supply. Inventory peaked around the time of the Olympics, when assumedly many people believed it was a good time to sell. Inventory levels stayed high until 2012, at which point they started to deplete.
Our inventory levels are now around what they were pre- GFC and are creeping back up to more moderate levels. The demand for properties at the bottom end of the market is draining condo stock, while detached homes are accumulating on the market longer as many people are being priced out of the single-family home market. As new developments help alleviate the shortage of affordable housing, and as people seek more affordable markets elsewhere, expect more inventory on the market over the next few years.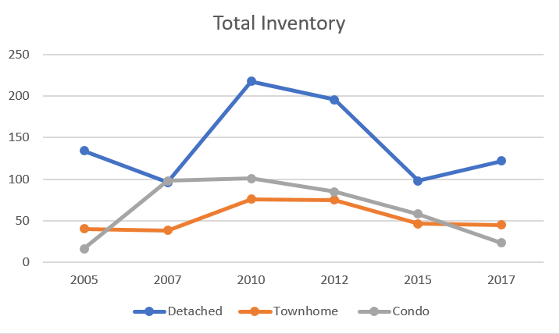 More questions about the Squamish real estate market? Make sure to contact me about buying or selling in Squamish this year. With nearly 30 years of expertise and as a top performer in the local market, I have the experience, knowledge and know-how to represent you in today's market.
*stats taken from April 2005, April 2007, April 2012, April 2015 and April 2017