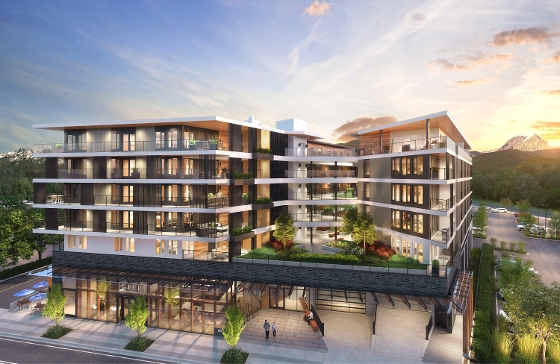 It's fair to say Squamish is currently experiencing a condo frenzy. Since the beginning of the year condo sales prices have increased 40 percent. This past weekend alone two condos that hit the market were sold in 24 hours with multiple offers. There are simply not enough condos on the market to keep up with the demand for them. As single detached homes and townhomes creep higher and higher and are now too expensive for many, condo lifestyle is becoming the new norm for buyers moving to Squamish.
Unfortunately for now, there are slim pickings in the condo department. With a limited supply of older re-sale condos, and very few new condos on the market, buyers are left bidding for the limited stock for sale. The good news is there is a boom of new condo construction happening in Squamish right now with three projects going on sale this month alone. The bad news is that completions on these projects are at least 1.5-2 years away, meaning those that want to secure and live in a brand new condo in Squamish will need to wait.
So what is coming up soon?
This weekend The Lauren goes on sale. This development has attracted some attention, especially from investors, with prices starting in the high $200Ks. It's been awhile since Squamish has seen any prices this low. Because of the excellent value, these will likely get snapped up by investors with little to be left for the everyday buyer. If you want to secure one of these, contact us immediatly.
Later this month The Vantage will also go on sale. This is the old medical building by Shoppers Drug Mart in downtown Squamish which will transform into a modern, European-designed mixed commercial residential building with an indoor courtyard and contemporary features. One bedrooms are starting in the low $300ks, two bedrooms in the mid $400ks and three bedrooms in the high $500ks. This project is expected to complete summer 2019. Reserve an appointment to secure your Vantage condo.
The Amaji is another condo development that will launch pre-sales this month. Featuring one and two-bedroom condos and located on 2nd Ave, it will be in the heart of everything downtown Squamish.
Currently (as of today) there are 23 condos on the market in Squamish displayed on the MLS (many of these have recently sold or have accepted offers). Only 11 condos came on the market in August compared to 19 in August 2016. There were 54 condos total for sale in August 2016 and last month there was a mere 20. With the District of Squamish pushing density, this will be a housing type we will see much more of in the coming years.
If you own a condo and are hoping to sell, there has never been a better time! Your condo is very much in demand and you'll likely be rewarded by a strong sale price and a lot of interest.
If you are buying it is important to stay diligent. Make sure you have your mortgage pre-approval in place and are signed up for new property alerts. Work with your agent to stay on top of new listings, and be prepared to make a strong offer when something you like comes on the market.
So far this September we have seen 46 new listings, 11 price changes and 24 sales across all property types. All signs are pointing towards a busy Fall real estate market. Make sure to contact me or Meghan with any questions about buying or selling this season.