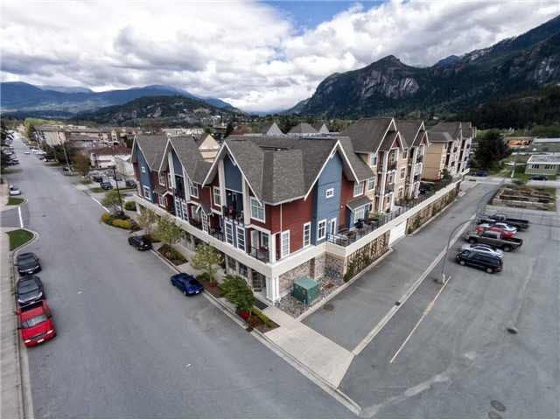 We are in the midst of a busy spring market and the popularity of Squamish real estate is going from strength to strength, despite a slowing down of Vancouver's market to the south. So what are the best performing housing categories in Squamish? What property types are most 'in-demand', and where can deals be found? Here we look at condos, townhomes and detached single family homes in Squamish, and how they are performing in the current market environment.
Condos
The average sales price of a Squamish condo in March was $344,000. This is up 9.2% from March last year, and 43% from March 2015. The average days on the market of a Squamish condo in March was 12, this was down from 100 days in January, and similar to March 2016 where the average days on the market was 11. Total inventory of condos has been dropping steadily since November 2016 which peaked at 67 condos on the market; in March 2017 there were only 24 (compared to 58 in March last year). Condo sales are down from this time last year, mainly due to the lack of inventory.
New inventory of condos in Squamish is limited. The Main, located in downtown Squamish, is nearly sold out, and Sirocco and Skyridge's Skysuites have not announced pre-sale dates. As the Squamish real estate market becomes more expensive, and as first-time buyers receive government assistance with down-payments, we will continue to see condos being highly sought after and sell quickly until new developments begin to replenish stock.
Townhomes
Squamish is seeing a surge of new townhomes come on the market, which may help stabilise property prices in this category, although we are not seeing proof of this yet. The median sales price of a townhome in March 2017 was $584,450, up 16 percent from March last year. Townhome inventory surpasses condos, with 53 on the market in March. Because of this days on the market are greater, averaging 32 days in March, giving buyers more choice when it comes to shopping around. Townhome sales remain similar to last year at 18 in March, although for the most part, this does not factor in pre-sales of new developments.
Projects like Summits View, Soleil, The Breeze and Skyridge are bringing much needed townhome inventory to Squamish. With completions starting late 2017, and more townhome projects coming up, there will hopefully be some stabilization of prices in the near future.
Detached Single Family Homes
Prices of detached single family homes have been on a sharp upward trend since 2015. In March 2017, the median sales price of a single-family home in Squamish was $952,000, up 13 percent from March 2016. Unlike condos and townhomes, there is little in the way of new inventory coming on the market, and besides Ravenswood, there does not appear to be much in the way of land or new developments happening in the near future. That being said, resale inventory is strong with 119 listings on the market in March, compared to only 66 listings the same time last year. Homes are selling for on average of 96.3 percent of the list price, which is lower than condos and townhomes which are at about 99 percent. There were 30 sales in March 2017 compared to 34 in the same month last year.
As you can tell by the numbers, no matter what property type you're looking at, the real estate market is hot in Squamish. The robust real estate market is staying strong even with the additional inventory coming on, and will likely remain this way as more projects commence in the next few years, fronted by the Squamish Oceanfront project (Newport Beach) which is securing 20 years of development on Squamish's Oceanfront peninsula making way for a further 6,500 residents in this community.
If you're wondering when is the best time to buy or sell, it is now! For buyers, prices are continuing to climb, there is plenty of inventory on the market so if you're able to buy, don't wait. Sellers are seeing healthy levels of appreciation and can be confident about getting a strong sale price for their home. So far in April we've seen 41 new listings, 9 price changes and 41 sales.
If you have any questions about the Squamish real estate market, or are thinking of buying or selling in Squamish, make sure to contact Nanci Fulton today.